Our previous reunions have certainly been held farther north (eg, Tacoma, WA 2009), but never have we held a reunion farther east than this year's reunion that will take place in Providence, the capital of Rhode Island.
One of the oldest cities in the US, Providence was founded in 1636 by Roger Williams (No, not the "Autumn Leaves" pianist), who was a religious exile from the Massachusetts Bay Colony.
Rhode Island is one of the original Thirteen Colonies of the US and the citizens of Providence were some of the first Patriots to spill blood leading up to the American Revolution. Rhode Island was also the last of those same 13 colonies to ratify the US Constitution in 1790 pending assurances that a Bill of Rights would become part of the Constitution.
During the 19th century, Providence had manufacturing industries in metals, machinery, textiles, jewelry, and silverware. Although manufacturing declined over the years, the city remained one of the largest centers for jewelry and silverware design and manufacturing. When the Civil War broke out, local politics split over slavery as many had ties to Southern cotton. Despite this split, the number of military volunteers routinely exceeded quota and the city's manufacturing proved invaluable to the Union.
As a contemporary American city, Providence has earned numerous claims to fame - too many to be listed here. But, it should be noted that Providence has more coffee/doughnut shops per capita than any city in our country! Good to know when you're looking for your morning cup o' Joe.
Culinary Arts Museum
The Culinary Arts Museum at Johnson & Wales University is a teaching museum that preserves and interprets culinary and hospitality heritage to encourage academic success and public enjoyment. This oddity of a museum displays about 300,000 objects connected in some way to the culinary arts. Ogle a cookbook collection dating back to the 15th century, resist fingering presidential cutlery and peruse over 4,000 menus from around the world. To visit their website, click HERE.
Providence Performing Arts Center
The Providence Performing Arts Center presents a full roster of touring Broadway theatricals and contemporary engagements.
PPAC has been the theatre of choice in launching thirteen National Tours. It is a 3100-seat, world class venue located in the heart of Providence's arts and entertainment district, and is the second largest theatre of its kind in the country. The theatre became known as the "Jewel of Weybosset Street" after its doors opened as Loew's State Movie Palace in 1928.
The beauty of the Theatre combined with the excellence of the productions makes every event at the Providence Performing Arts Center a work of art! To visit their website, click HERE.
Roger Williams Park Zoo
Roger Williams Park Zoo opened in 1872 and is an integral part of southern New England's history and heritage, bringing excitement and discovery of the natural world to generations of visitors. Today the Zoo is one of Rhode Island's top tourist attractions, welcoming over 650,000 people annually from all over New England and beyond.
Roger Williams Park Zoo is a valuable center for science and environmental education. Their standards-based education programs provide invaluable experiential learning to thousands of students every year and their advocacy efforts have helped to shape national environmental education legislation.
Situated within Providence's historic and beautiful Roger Williams Park, the Zoo is home to well over 100 species of rare and fascinating animals from all over the world. As an accredited member of the Association of Zoos and Aquariums (AZA), the Zoo is also home to many endangered species and participates in cooperative conservation and breeding programs to help ensure their future survival. To visit their website, click HERE.
La Gondola
Benvenuto! You are invited to see the sights of the City from a unique vantage point that captures the heart of Providence. A gondola trip is a great way to celebrate an occasion, add a special twist to an event, tour the city with a large group, or simply to relax and enjoy a truly unique night out.
La Gondola can accommodate up to six passengers on each of our three beautiful authentic gondolas, and they can also customize trips to accommodate larger parties for conventions / corporate events, group tours, wedding receptions, and more!
Owner Matthew "Marcello" Haynes has been at the helm of the company since 2007, and has transformed the enterprise into one of the most recognized and beloved attractions in Providence. His unwavering focus on customer service and the value of each individual's experience on board the gondolas has resulted in both local and national recognition, including a 5-star rating on TripAdvisor. To visit their website, click HERE.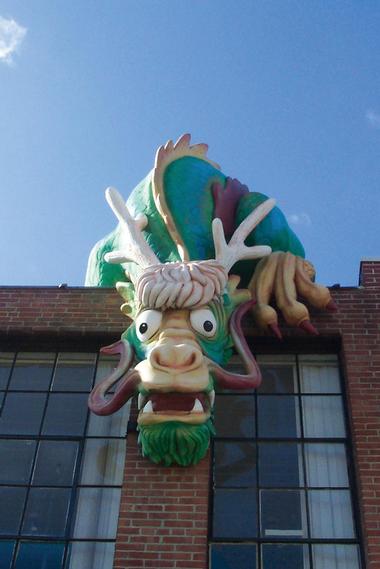 Providence Children's Museum
In the mid-1970s, the Pawtucket JayCees and other community leaders began exploring the idea of opening Rhode Island's first (and still its only) children's museum in Pawtucket. Volunteers renovated the Pitcher-Goff House, raised funds, sewed curtains and costumes, built intriguing play spaces and, in June 1977, began welcoming excited children and curious adults. Ten years later, Rhode Island's Children's Museum was a professionally staffed organization serving 50,000 visitors a year. It was attracting national attention as well as enthusiastic local support and had become a leader in the rapidly growing children's museum movement.
By the 1990s, the Museum had outgrown its space and its leadership began planning for expansion and relocation. They entered into a purchase agreement for a 17,000 square foot former factory building in Providence's historic Jewelry District and launched a $3 million capital campaign. In October 1997, the renamed Providence Children's Museum opened its new quarters at 100 South Street. In 2010 the Museum completed the Play Works Campaign for Kids. It has become an integral part of Rhode Island life, a place where children are nurtured and celebrated. The Museum welcomes children and adults of all backgrounds and from all communities. Its focus is on serving southern New England children, ages 1 to 11, and the adults who care for them by presenting hands-on, play-based exhibits and programs that explore arts, culture and science, technology, engineering and math; fostering children's social, emotional and physical development; and increasing awareness and knowledge of the ways in which children and families learn. Rhode Island prioritizes children and their families in need and ability to play and learn in their own ways. To visit their website, click HERE.
Providence River Boat
Discover the historic and contemporary milestones of the waterways of Providence on our fun, fully narrated 45 minute tour! Explore the Providence River, Riverwalk, Waterplace Park and the Providence Harbor, as we highlight historical, nautical and architectural points of interest.
Whether you're a tourist, a longtime Rhode Island resident, traveling with your family, or on your own, our tours are designed to appeal to everyone. Hop on one of our open-air pontoon boats, take in a daytime tour, sunset cruise, WaterFire ride or lighthouse tour, and enjoy the city views, the company and the expert narration of your tour guide. To visit our website, click HERE.
---
Directory
| | |
| --- | --- |
| | To help you find the information you need on this webpage, click any of the following links to go directly to that part of the page - |
---
Hotel - Crowne Plaza Hotel, PROVIDENCE-WARWICK (AIRPORT)
The place to be for this year's reunion is the
Crowne Plaza Hotel, WARWICK (Airport) located at -
801 Greenwich Ave
Warwick, RI 02886
Tel. 401-732-6000
If you're driving to the reunion, you'll be happy to know that the Crowne Plaza Hotel offers ample free parking for its guests.
If you're flying to the reunion, you will likely fly into TF Green International Airport (PVD), which is less than 2½ miles to our hotel. The Crowne Plaza offers free shuttle service to/from the airport.
---
Hotel Reservations
Your hotel reservations should be made as early as possible, and must be made prior to Wednesday, May 18th to secure your negotiated room rate.
You will be able to make your hotel reservations during the Reunion Registration process below, OR you may call the hotel directly at 401-732-6000, making sure to reference THE MISAWA PROJECT to receive the discounted room rate.
---
Reunion Registration
Click on the registration button below to link to the reunion Registration Form. You'll be able to complete your registration and pay online using one of several credit cards.
Under REUNION INFORMATION you'll also be able to click on THE MISAWA PROJECT to link to the hotel website and make your hotel reservations (use group code MIS).
If you prefer instead to print and snailmail your Registration Form with your personal check, click HERE to print a copy of the form. Following the instructions at the top of the sheet, complete the form and mail it with your check to the address provided.
Regardless of which way you choose to register, remember that your reunion registration and payment must be COMPLETED AND RECEIVED no later than Wednesday, May 18th!
---
Reunion Itinerary
To view and/or print the reunion itinerary as well as the scheduled bus tours, click HERE.
---
Reunion Raffle

Our Project Treasurer and Reunion Chairman, Syd Scales, is heading up our Raffle Table again this year. Our thanks to Syd for meeting the challenge
Each year, the Reunion Raffle is our one and only fund raiser. Raffle ticket sales allow us to provide each Misawa Vet with an absolutely free membership to The Misawa Project. Raffle proceeds also cover the cost of operating our members-only website at www.spokt.com, our public portal Companion Site, all associated overhead costs, and generally keeps our organization financially afloat.
But, raffles don't work well without raffle prizes, and we depend upon you and your raffle item donations to drive the sale of tickets. This is your opportunity to contribute to your organization, and we very much appreciate your generous donations.
If you have one or more items to place on the Raffle Table this year, but they're perhaps too large to travel with - or maybe you're unable to attend - consider mailing them well in advance to Bob Dellapi who has agreed to be our Drop Point and promises to make sure your contribution makes it to this year's Raffle Table. Your item must be received no later than Tuesday, June 20th to make it to the Reunion. Bob's snailmail address is -
Bob Dellapi
345 Maravista Avenue
Teaticket MA 02536-7557
Important Reminder - Before you mail anything anywhere or pack it in your luggage, please remember to take at least one really good photo of each item and email it, along with descriptive verbiage of each, to Dutch Wiest so the item(s) can be featured on the Virtual Raffle Table prior to the reunion. We've learned that previewing raffle items helps boost our ticket sales significantly.
Note - If you're unable to attend, but would still like to participate in the Raffle, here's how -
Click HERE to print the Registration Form.
You need only complete the blanks that are HIGHLIGHTED.

Under RAFFLE TICKETS, enter the dollar amount you wish to spend on tickets.
Under TOTAL AMOUNT PAYABLE, enter that same dollar amount.
Enter your FIRST and LAST name.
Enter your MAILING ADDRESS and a PHONE NUMBER in case we need to reach you.

Mail your Registration Form and personal check - payable to ARMED FORCES REUNIONS, INC - to the Armed Forces Reunions address found near the top left of the Registration Form.
Contact someone you know who's attending the Raffle and ask him/her to act as your proxy when/if your name is called. Give them a list of the items you'd like to win and prioritize them. Finally, arrange for your proxy to pack/mail your winnings to you at your cost.
---
Reunion Checklist
So, are you ready to make this happen?? Let's run through this checklist and see what you're forgetting.
Convince your spouse/significant-other/special friend/Moose (pick only one!) to accompany you.
Punch a hole in your 2017 calendar today to make sure your reunion dates are open.
However you decide to travel, make arrangements well in advance (tickets, stop mail, house sitter, dog walker, etc).
Your magic date is May 18th to complete both your reunion registration AND make your hotel reservation so as to guarantee our negotiated room rate (Remember to jot down your reservation number).
Arrange for personal transportation to/from the hotel (shuttle, Stateside Taxi, rental car, blue goose, etc). Remember - the Crowne Plaza offers shuttle service to/from the airport.
If you are able to donate one or more items to the raffle table, give some thought now to your selection. Take a photo of that item and email a copy to dutch@usafssmisawa.com with your best description, then pack it in your bag or get it in the mail to Bob Dellapi to ARRIVE no later than June 20th.
Remember to pack photos, keepsakes, souvenirs, and all your stories (true or fabricated) from your days in Misawa to share with your friends and comrades, old and new.
A week or two before you hit the road, call the hotel (with that confirmation number you wrote down earlier) and confirm your reservations to avoid any unpleasant surprises.
Come prepared for a great time and we'll do our level best to make sure you're not disappointed!

---
Reunion Contacts
Still have questions? You'll find answers by contacting -
For more information regarding this reunion, log into our members-only site at
Spokt.com
.